I sure don't know where time goes. I honestly can't believe that it's been over two months since I last posted. I knew I'd been busy but not that busy. lol. I have some photo documentation for my absence though. I'll try to keep it all in chronological order.
First of all, those hives had me down and out. I had them under the skin on my hands on the palms and for about 2, maybe 3 weeks, I couldn't sew, blog or anything much where I depended on my hands to get the job done. Then I kind of went through a down in the dumps spell. Still not feeling all yippy skippy but better. Anyway, I kind of let things of all nature fall on the wayside for a spell.
I got a huge order from my neice for some crayon bags. Eleven of them in total. I worked to the very last minute possible and thought I had fifteen minutes to spare before she showed up for them. Turns out she showed early and I had just pulled the last one off the machine. I didn't even get pictures of the boys bags and they were the cutest of all. Oh well. Thanks Mick for the order. I hope they enjoyed them. Here is a photo of the seven girl bags I made.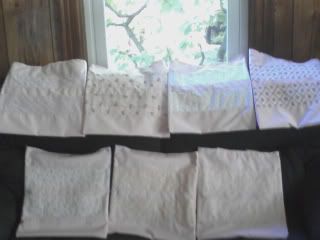 Then we had graduation to prepare for. We had all these announcements and party invitations to get ready and send out.
We had Mother's Day and Father's Day and Memorial Day Weekend. All fairly uneventful for us but nice and relaxing just the same.
We had graduation and my youngest son Shawn graduated on May 30, 2009. Yay Shawn. I am so proud of him and so happy that he is done with school. I wish him only the best the future has to offer.
On June 25th, hubby and I celebrated our 21st wedding anniversary. It was a great day despite the fact that we both had to work. He brought me home roses and went to dinner at my favorite mexican restaurant. Then we shopped for the party we were having in two days.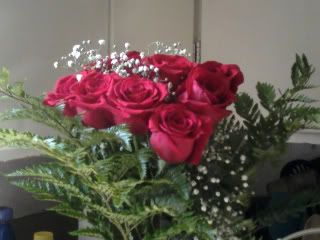 We finally got the senior pictures from the photographer on the 26th, one day before the party. I'll have to scan those and get them posted. They weren't even taken til April 30th. lol. We don't have the party photo's back yet but as soon as I have those I'll post those too. We had a hard time pulling that one off. On Monday, June 22nd, I found out the place I had booked for the party eight weeks ago had us written down for the wrong date and someone else's name was in our spot. Last minute switch but new location found and all guests notified of the change. Was told how awesome Buehler's marble cake was so I ordered one but we got a half white and a half chocolate cake instead. About twenty of our guests that rsvp'd didn't make it but all in all it was a great day and we enjoyed the lovely day with dear friends and family all in Shawn's honor. He needed that. Jerry and I have been on vacation this week which was nice having the party weekend, vacation, plus a holiday all before we have to go back this coming Monday. We've been broke so we have done absolutely nothing but piddle around the house and it's been wonderful actually. I was exhausted Sunday and slept almost all day off and on. Honey took his sleeping day on Monday. lol. We got our nasty front porch cleaned off and I hope to have a party Friday or Saturday. We used to have porch parties all the time. Ah, back in the day. lol.
A few weeks back we had some horrendous rain and I think they said it rained 2 inches in an hour that day. Here is a pick of the street in front of the house and our front yard. that is Shawn out there playing in it.
I'm sorry I haven't been around in so long. I have been checking on all of you off and on but not as much as I'd like. I started going down my list today and am looking forward to finishing up here after bit checking in on everyone. Even though I don't always comment, I still like to keep up with all the great people that hang out here in blogland.
I'll try real hard to be back around more often.
Happy Stitching,
Renee